Humanists & Non-Theists Present a Discussion of
"How this UU Community Helped Settle the Unsettled"
Sunday, August 16
1:00 p.m.
The Humanists and Non-Theists of the First Unitarian Universalist Society of San Francisco present a discussion of the Guardian Group and the Documentary "Unsettled".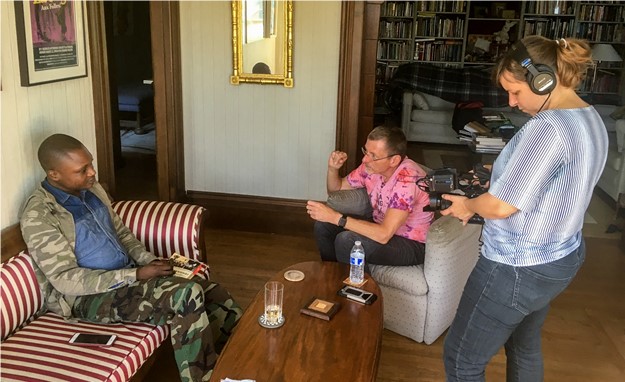 In 2011 members of the Society acted on a request from the Unitarian Universalists United Nations Office to help gay and lesbian refugees settle in San Francisco. We were asked to assist newly arrived refugees with navigating US institutions such as MUNI, DMV, and Costco for the eight months the US government pays refugee benefits.
Our commitment and our influence on these new city residents turned out to be much deeper, longer, and important to both the refugees and our volunteers. Instead of simply decoding US bureaucracy we became key emotional, social, and financial support for these new San Franciscans.
Galen Workman, one of the original UUSF Guardian Group mentors, will talk about his experience helping refugees and how it felt to be filmed by a documentary film maker for three years while working with one client.
Galen was a primary contact Junior Mayema whose story is told in Unsettled: Seeking Refuge in America. This award-winning documentary is streaming for free now through August 20 here.
The film is an excellent, realistic, and engaging look at who refugees really are and what they face when they arrive in the Bay Area.
View the movie now and join the Humanists and Non-Theists Zoom discussion Sunday, August 16 at 1pm!

Please join us by Zoom: https://us02web.zoom.us/j/86226163154?pwd=QnVLTnVzbHh4YmtSY29uMS9YcW5YQT09&fbclid=IwAR3PugWz4qfLJJSVSRtL8etbVEEthcfIcrr0riNvtsGzl2yr2ngz58VPdYw
Meeting ID: 862 2616 3154
Passcode: 288403