Help on Hiatus
Because of the US Government's cut back on the number of refugees admitted to the country and the high cost of living in San Francisco, the Guardian Group decided in May, 2018 to suspend its regular meetings and work. We are responding and reacting to opportunities on an ad hoc basis and stand ready to resume "normal operations" if external conditions allow.
Please read our updates for our latest actions and thoughts.
A Hands-On Social Justice Project
Members of the Guardian Group provide support to sexual minority refugees, asylum seekers, and asylees who are being resettled in San Francisco and nearby cities. All people being assisted by the group are in the United States legally. The group's work includes practical assistance such as helping a newcomer navigate governmental paperwork.
More importantly, the Guardians are people refugees can rely on to give independent advice and to provide unconditional friendship.
The Guardians often hear of needs that are not met by any governmental service and devise ways to obtain what is needed for the refugee. With other members of the Group, Guardians determine what can be funded by donations or what alternatives can be developed. Money in the past has been used for needs such as dental work, MUNI passes, and short-term rent subsidies.
Who Are Guardians?
The Guardian Group is a social justice action of the First Unitarian Universalist Society of San Francisco. Members and friends of the First Unitarian Universalist Society of San Francisco participate in the Guardian Group in different ways.
The Guardian Group Committee
Assigns refugee support tasks, raises funds, coordinates acceptance of refugees, plans strategy, worries.
Guardian Group Mentors
Mentors are the primary contact for a refugee. They are a stable, non-judgmental, non-anxious presence in the lives of the Guardian Group's clients. (More on mentors)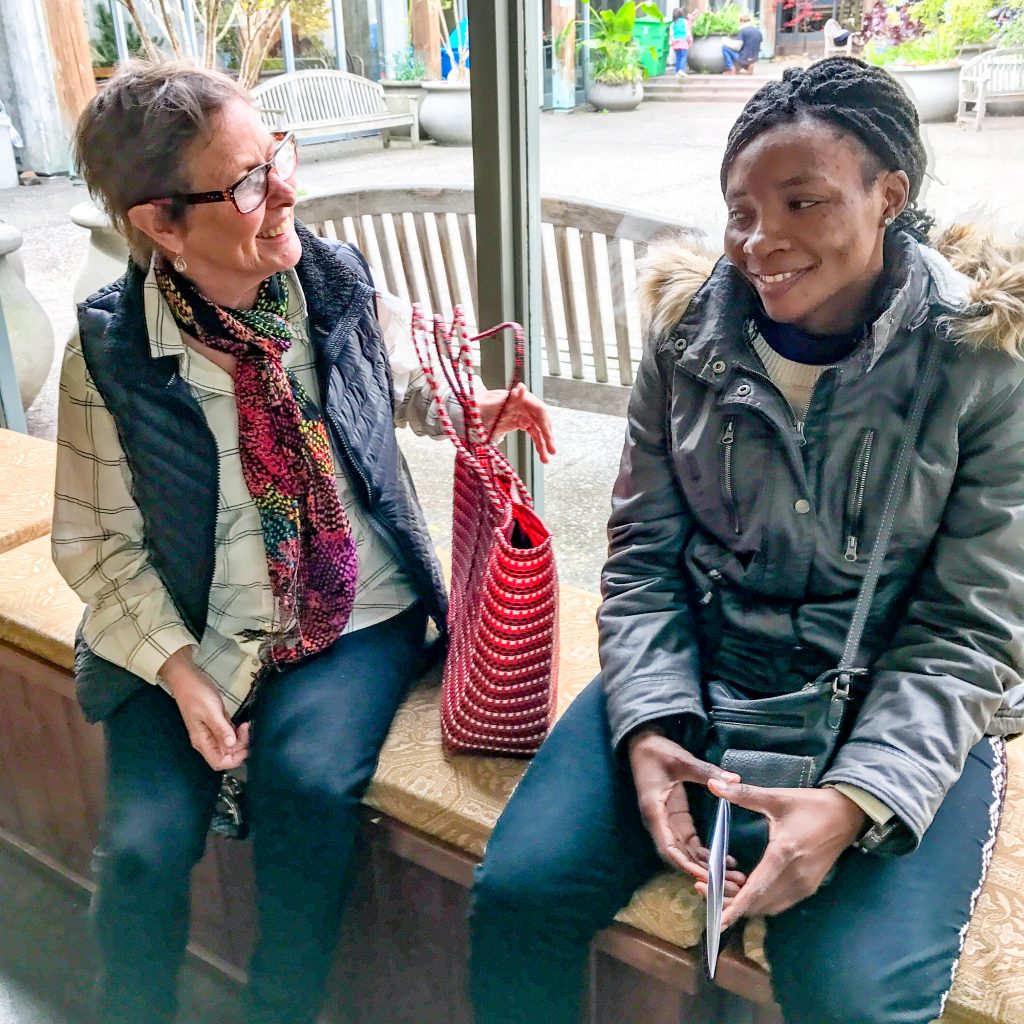 A mentor and her client.
March, 2017
Guardian Group Supporters
Offer ad hoc support by providing rides, accompaniment to a specific appointment, and an invitation to a dinner/event. Donate time and/or money.
You Can Help Refugees with Your Time
You can assist in many ways with many different levels of time commitment.
Be a non-anxious, non-judgmental friend to a person without local family.
Help newcomers navigate Social Security, DVM, MUNI, and Costco.
Invite a refugee into your home for a dinner or to a cultural or sporting event.
Spread the word among your contacts about the need for inexpensive housing.
Coach a refugee in job search skills including resume writing, application completion, and interviewing.
Provide a room that you are willing to let a refugee live in for a period of one to several months.
You Can Help Refugees with Household Items, Clothing, Electronics, and More
See our a list of pressing needs.
You Can Help Refugees with Your Donations
Public agencies help refugees by providing them about $200 in food stamps and $300 cash assistance for eight months. This is not enough to live on.
The Guardian Group uses monetary donations to
Pay move-in costs in shared housing situations.
Buy transit passes
Pay for California ID cards
Support job searching activities by fixing a computer, paying for extra transportation, etc.
Etc., etc., and etc.!
Donate online now. Please target your gift by putting "Refugee Guardian Group" in the memo line.
Contact:
Galen Workman
[email protected]